Portfolio? Blog? URL link? Or an ordinary text page? With your portfolio website from JuicyFolio, you can choose from several different types of pages, each of which has its own special function. Do you want to create another portfolio, set up an image slide show, or add a blog? No problem? But how to do it?
Creating a new page
After clicking on Page in the administration of your website, you may notice a small blue sheet icon. And when you click on this icon, you'll get to an overview of each page types that JuicyFolio can create for you. So what can these page types actually do?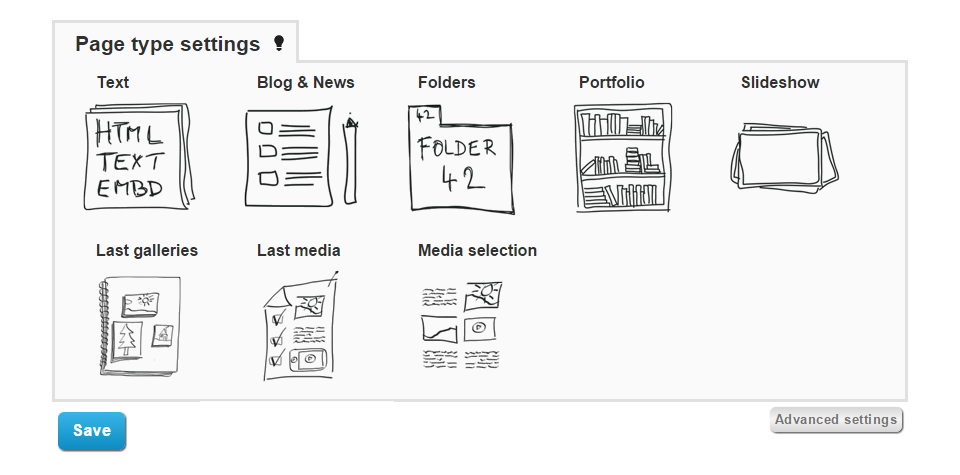 Text
With a basic text page, you can combine images, text blocks, and other elements. You can also use it for example as a contact page, a page about your project, and so on.
News
The News page type will generate a list of the recent blog posts (that you can edit in your administracion under the Blog bookmark). For example of this page type, you can look on our own blog.
Portfolio
By adding a Portfolio page, you can create a whole new image portfolio, in which you can set up additional folders and galleries (that you can then manage in your administration under the Portfolio bookmark).
Slideshow
This function is usually used for the homepage, but you can also set it up as a new page. Read more about the usage of sliedshows in this special article.
Last galleries
This page allows you to get a updated overview of the newest galleries on your portfolio. The number of shown galleries (or medias) can be personalised just for you.
Last media
With the same principle as with new galleries, however this function displays the newest media elements on your website, which means images, text blocks, or for example videos.
Media selection
Next very popular way of showing the content of your website, that inserts a media list similar to Last media, but that you can manually choose what elements to ad, what to not and in what order.
URL Link
The function of this page is very simple, because it kind of doesn't really exist, but rather it serves as a redirection to an URL link of your choosing. You can use this for example when you have not only a website, but also an online shop on its own domain. Simply put an URL link to your menu that will redirect your users to streight to the online shop.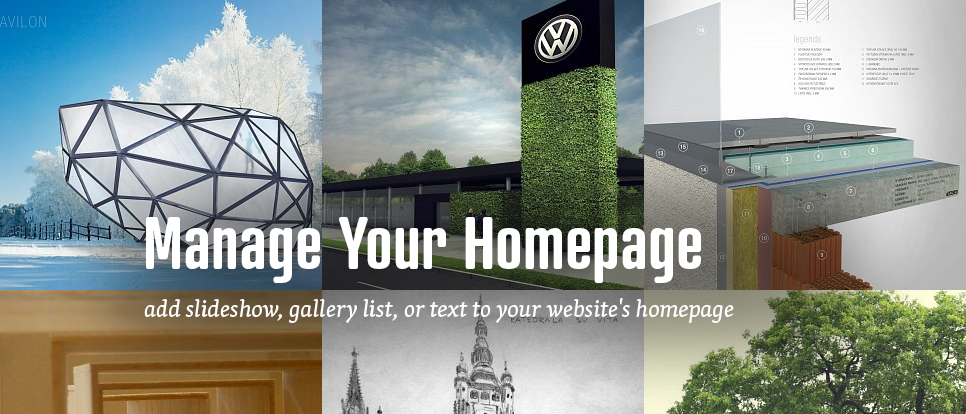 Similarly as you can choose various page types, you can also set up a specific type for your homepage, about which you can read more in this article.